Weight : 3 to 7 pounds
Height: 20 cm (Adult)
Colors: White, Black, Grey-shaded, Tan, Brown, Orange
Life span: 12 – 16 years
Description
Breed Information

Popularity
2020: #23

2019: #24

2018: #23

2017: #22

Name
Pomeranian
Other names
Pom, Pom Pom, Deutsche Spitze, Zwergspitz, Spitz Nain, Spitz Enano, Zwers
Origin
 Germany

 Poland

Breed Group
Toy (AKC:1888)

Companion Breeds (UKC)

Size
Smallest
Type
Purebred
Life span
12-16 years
Temperament
Active

Extroverted

Friendly

Intelligent

Lively

Playful

Sociable

Height
7-12 inches (18-30 cm)
Weight
3-7 pounds (1-3 kg)
Colors
Black

Black & Tan

Blue

Brown

Gray

Orange

Red

White

Litter Size
2-5 puppies
Breed Characteristics

Adaptability

5 stars

Apartment Friendly

5 stars

The Pomeranian is good for apartment living. These dogs are very active indoors and will do okay without a yard. Be careful they do not overheat in hot weather.

Barking Tendencies

4 stars

Frequent

Cat Friendly

5 stars

Child Friendly

2 stars

Not Good with Kids: In isolation, this dog breed might not be the best option for kids. However, to mitigate the risks, have the puppy grow up with kids and provide it with plenty of pleasant and relaxed experiences with them. This breed is also friendly toward other pets and very friendly toward strangers.

Dog Friendly

3 stars

Exercise Needs

2 stars

Poms need a daily walk. Play will take care of a lot of their exercise needs, however, as with all breeds, play will not fulfill their primal instinct to walk. Dogs that do not get to go on daily walks are more likely to display behavior problems. They will also enjoy a good romp in a safe, open area off lead, such as a large, fenced-in yard.

Grooming

3 stars

Moderate Maintenance: Grooming should be performed regularly to keep its fur in good shape. Occasional trimming or stripping needed.

Health Issues

3 stars

Hypoallergenic: No

Intelligence

5 stars

Ranking: #23 Full Ranking List

Playfulness

4 stars

Shedding Level

3 stars

Moderate Shedding: Expect this dog to shed regularly. Be prepared to vacuum often. Brushing will reduce shedding as well as make the coat softer and cleaner.

Stranger Friendly

3 stars

Trainability

3 stars

Moderately Easy Training: The intelligence of the Pomeranian makes training fairly easy. Pomeranians must be trained when young not to bark excessively. Pomeranians should also be trained not to linger at their owner's feet, for risk of being stepped on and injured.

Watchdog Ability

3 stars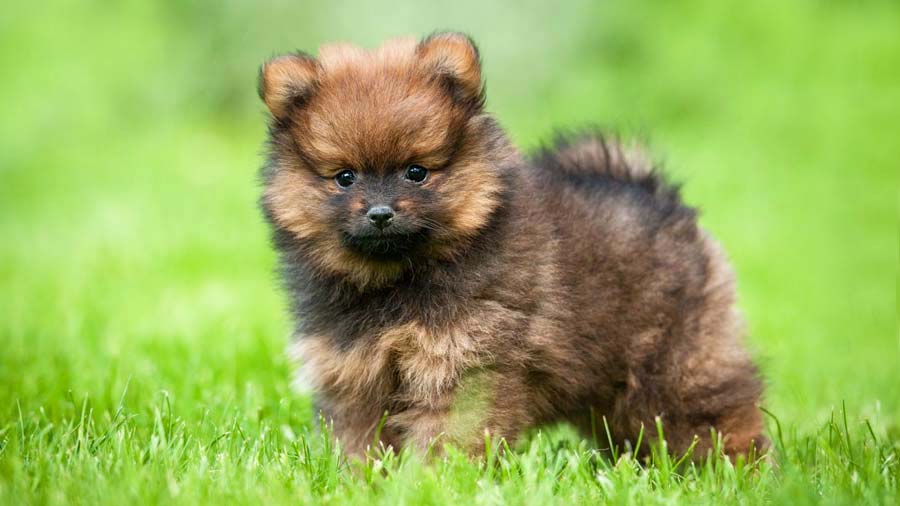 Pomeranian Names

Rank
Boy Names
Girl Names
01
Cooper
Daisy
02
Duke
Sadie
03
Toby
Chloe
04
Jack
Layla
05
Tucker
Zoey
06
Dexter
Gracie
07
Oliver
Sasha
08
Winston
Abbie
09
Marley
Molly
10
Zeus
Callie
Overview
The Pomeranian is a small, square-proportioned, miniature spitz with a cobby, rounded body. It shares the spitz characteristics of small ears, double coat and curled tail. It has an alert, foxlike expression. Its gait is smooth and free with good reach and drive. The soft thick undercoat combined with the longer harsh outer coat, standing off from the body, combine to give the dog a unique puffy appearance. This look is further accentuated by the thick ruff and a head carriage that is naturally up-gazing.
Bouncy, bold and busy, the Pomeranian makes the most of every day. It is curious, playful, self-confident (even cocky) and attentive, ever ready for a game or adventure. It is reserved toward strangers. Some can be aggressive toward other dogs. Some bark a lot.
History
The Pomeranian got its name from the region of Pomerania, which is now the area of Germany and Poland, where it was developed from the ancient Spitz breeds. The original Pomeranians were much larger, weighing up to 30 pounds, and worked as sheep herders. Marie Antoinette, Emile Zola, Mozart and Queen Victoria all owned Pomeranians. In 1870 the Kennel Club in England first recognized them as a breed. In 1888 Queen Victoria began breeding and showing the dogs. It was she who started breeding them down in size, making the breed very popular in England. The Pomeranian was first recognized by the AKC in 1888. Some of Pom's talents include watchdog, agility and performing tricks. Poms make superior circus performers.