Weight : 14 to 18 pounds
Height: Male: 30 cm (At the withers), Female: 25 cm (At the
withers)
Colors: Black, Fawn, Apricot, Silver Fawn
Life span: 12 – 15 years
Description
Pug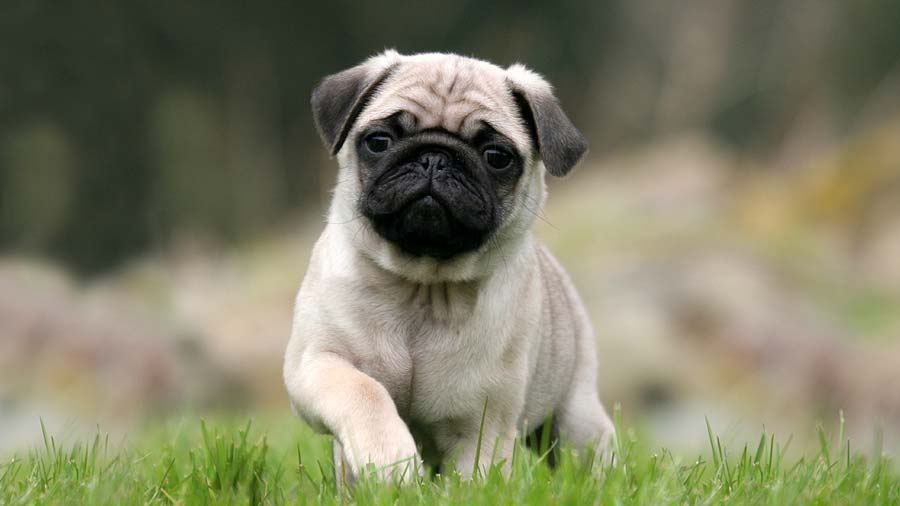 Breed Information

Popularity
2020: #29

2019: #31

2018: #28

2017: #31

Name
Pug
Other names
Chinese Pug, Dutch Bulldog, Dutch Mastiff, Mini Mastiff, Mops, Carlin
Origin
 China
Breed Group
Toy (AKC:1885)

Companion breeds (UKC)

Size
Smallest
Type
Purebred
Life span
12-15 years
Temperament
Affectionate

Cheerful

Courageous

Gentle

Intelligent

Friendly

Out-going

Playful

Loyal

Height
Male: 12-14 inches (30-36 cm)

Female: 10-12 inches (25-30 cm)

Weight
Male: 13-20 pounds (6-9 kg)

Female: 13-18 pounds (6-8 kg)

Colors
BlackFawn
Litter Size
2-4 puppies
Breed Characteristics

Adaptability

5 stars

Apartment Friendly

5 stars

The Pug is good for apartment life. It is relatively inactive indoors and will do okay without a yard. Cannot withstand hot or cold weather and should be kept indoors at a comfortable temperature.

Barking Tendencies

3 stars

Occasional

Cat Friendly

5 stars

Child Friendly

4 stars

Good with Kids: This is a suitable breed for kids and is known to be playful, energetic, and affectionate around them.

Dog Friendly

5 stars

Exercise Needs

2 stars

Pugs are strong dogs with short, straight legs. They need to be taken on daily walks. They enjoy energetic games and will keep in better health if given regular exercise. But be careful not to overdo it, especially if you see them start to wheeze.

Grooming

1 stars

Low Maintenance: Grooming a Pug's coat is easy. Brush his smooth double coat weekly with a rubber curry brush to remove dead hair. And you will remove lots of it, because Pugs shed. Bathe the Pug as needed. With the gentle dog shampoos available now, you can bathe a Pug weekly if you want without harming his coat.

Health Issues

5 stars

Hypoallergenic: No

Intelligence

4 stars

Ranking: #57 Full Ranking List

Playfulness

3 stars

Shedding Level

4 stars

Constant Shedding: Expect this dog to shed frequently. Be prepared to vacuum often. Brushing will reduce shedding as well as make the coat softer and cleaner.

Stranger Friendly

5 stars

Trainability

3 stars

Moderately Easy Training: It is necessary to be gentle when training the Pug, as it is very sensitive to the tone of is master's voice. Pugs are sometimes stubborn but do well with obedience training.

Watchdog Ability

3 stars
1 / 1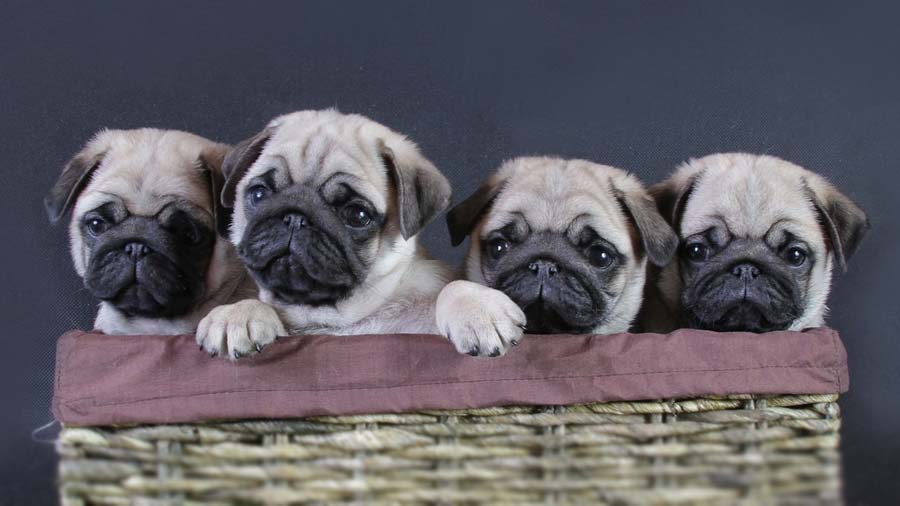 Pug Names

Rank
Boy Names
Girl Names
01
Charlie
Daisy
02
Buddy
Millie
03
Bo
Ella
04
Brody
Lady
05
Ace
Penny
06
Oliver
Piper
07
Hank
Cookie
08
Baxter
Shelby
09
Louie
Sadie
10
Rocco
Minnie
Overview
Square-proportioned, compact and of a cobby build, the pug is a large dog in a little space. Its gait is strong and jaunty, but with a slight roll of the hindquarters. Its distinctive expression is soft and solicitous. Its forehead has large, deep wrinkles. Its coat is fine, smooth and short.
The Pug breed is often described by the Latin phrase multum in parvo, or "much in little" or "a lot of dog in a small space", alluding to the Pug's remarkable and charming personality, despite its small size. Pugs are strong willed but rarely aggressive, and are suitable for families with children. The majority of the breed is very fond of children and sturdy enough to properly play with them. Depending on their owner's mood, they can be quiet and docile but also vivacious and teasing. Pugs tend to be intuitive and sensitive to the moods of their owners and are usually eager to please them. Pugs tend to have a somewhat lazy nature and spend a lot of time napping. They are often called "shadows" because they follow their owners around and like to stay close to the action, craving attention and affection from their owners.
History
There are various theories regarding the origin of the Pug breed, but the most generally accepted is that they originated in the Orient, and are a smooth-coated, longer-legged type of Pekingese. They have been well known in Europe since at least the 16th Century. After gaining favor with Royalty, the breed became very popular and even more well known. The AKC recognized the Pug in 1885.
Pug Dog Price How Much Does a Pug Cost?
Many people are interested in purchasing a pug dog but are often deterred by the cost. While pugs are not the cheapest breed of dog, they are still an affordable option for many people. The average pug dog price is around Rs. 20,000, but this can vary depending on the specific dog's pedigree, color, and other factors. Buy a pug dog from Naughty Dogs at the best price. Naughty Dog is the best pet shop in Jaipur, India.
The Average Pug Dog Price How Much Does a Pug Cost?
– how much does a pug cost? A pug dog typically costs between $ and $, The average price of a pug dog is $, Factors that can affect the cost of a pug include the breeder's reputation, the dog's lineage, and whether or not the dog has any health problems
Where to Find the Best Pug Dog Prices?
, pug dog for sale, find a pug dog, buy a pug dog If you're on the hunt for a pug dog, you'll want to know where to find the best prices This comprehensive guide will show you where to look for pugs for sale and how to compare prices to get the best deal on your new furry friend When it comes to finding a pug dog for sale, there are several things that you need to keep in mind First of all, make sure that you only purchase from a reputable breeder or seller There are many unscrupulous people out there who may try to sell you an unhealthy or poorly bred Pug Secondly, be prepared to pay a bit more for a pedigree Pug Dog These dogs tend to cost between $ and $, USD depending on their lineage and coloration Finally, remember that buying a Pug is not an investment; they are living creatures that require time, attention, and love!
How to Get the Best Price on a Pug Dog?
Pug dogs are one of the most popular dog breeds and have been for many years They're known for their lovable, wrinkled faces and their outgoing personalities Pugs are also relatively small dogs, which make them a good choice for families with small children or people who live in apartments If you're thinking about getting a pug dog, you're probably wondering how much they cost The price of a pug dog can vary depending on several factors, including the breeder, the dog's coloring and markings, and whether or not the dog is registered with a kennel club Generally speaking, pug puppies cost between $ and $, However, you may be able to find a cheaper pug puppy through rescue organizations or shelters If you're looking to get the best price on a pug dog, there are a few things you can do First, shop around at different breeders to compare prices Second, consider adopting an adult pug rather than buying a puppy And thirdly, check out rescue organizations or shelters in your area to see if they have any pugs available for adoption By following these tips, you should be able to find a great deal on your new furry friend!
What Factors Affect Pug Dog Prices?
When it comes to pug dogs, there are a few factors that can affect their prices Some of these include the breeder, the Dog's genetic history, and even the dog's country of origin Keep reading to learn more about what determines a pug dog's price tag The first factor that can affect a pug dog's price is the breeder A good breeder will charge more for their puppies because they have put time and money into ensuring that their dogs are healthy and have good temperaments A bad breeder, on the other hand, may not care as much about the health and wellbeing of their puppies and will charge less for them accordingly Another factor that can play a role in determining Pug dog prices is the Dog's genetic history If a Pug's parents were show dogs or came from a line of champions, then they are likely to be more expensive than Pugs who come from less "pedigreed" backgrounds This is because Champions tend to pass down their good genes to their offspring, making them more desirable (and thus, pricier animals The final factor that can impact Pug prices is the dog's country of origin Pugs who come from countries with higher living standards (such as America or Canada typically cost more than those coming from developing nations like China or India This difference in price is due to differences in vet care, food quality, and general living conditions between these two types of countries
Why Are Pug Dogs So Popular?
As one of the most popular dog breeds, Pugs have a lot to offer They are known for their distinct look, outgoing personalities, and loveable dispositions If you're thinking about adding a Pug to your family, you're probably wondering how much they cost Pug dogs typically cost between $ and $, The price tag can be higher for show-quality dogs or those with rare colorings When selecting a Pug puppy, be sure to work with a reputable breeder who can provide health clearances for the parents The cost of ownership goes beyond the initial purchase price You'll need to budget for routine veterinary care, food, supplies, and grooming costs Pugs are prone to some health conditions that may require expensive treatments or surgeries If you're looking for a lovable companion who will bring joy to your life, a Pug might be the perfect fit Be prepared to budget for the upfront purchase price as well as ongoing costs associated with care and maintenance
What Makes Pug Dogs So Special?
, pug dog for sale, fawn pug puppies Pug dogs have been around for centuries and have always been a popular pet Pugs are known for their unique appearance and friendly personalities Pugs are relatively low maintenance compared to other breeds of dogs Pug puppies are typically very playful and make great companions If you're looking for a special dog that will bring joy to your life, consider a pug!
How to Choose the Right Pug Dog for You?
If you're thinking of getting a pug dog, you're probably wondering how much they cost In this comprehensive guide, we'll break down the different factors that affect pug prices so you can make an informed decision Pugs are one of the most popular dog breeds in the world, and their adorable faces and unique personalities are part of the reason why But before you bring home your new furry friend, it's important to consider all aspects of pet ownership – including cost One of the main factors that affects pug prices is supply and demand Because pugs are in high demand, they often come with a higher price tag than other breeds However, there are ways to find reasonably priced pugs if you do your research Another factor that can affect pug prices is whether or not the dog is purebred Purebred dogs usually cost more than mixed breed dogs because they are considered to be "more desirable" However, mixed breed dogs can make great pets too! It's ultimately up to you to decide what's best for your family No matter what type of pug you're looking for, there are a few things you should always keep in mind when making your purchase health clearances, quality breeder reputation, and pet insurance coverage By taking these factors into consideration, you can be sure that you're getting the best possible deal on your new furry friend!
If you're looking for a loyal, loving, and adorable companion, then look no further than the Pug dog Pugs are one of the most popular dog breeds for a reason – they're simply irresistible! But before you run out and purchase a Pug puppy, there are a few things you need to consider In this blog post, we've covered everything from Pug history and temperament to price and grooming needs Take your time in doing your research so that you can find the perfect Pug for your home and lifestyle
Pet Shops For Pug Dog in Ahmedabad /
Pet Shops For Pug Dog in Bangalore /
Pet Shops For Pug Dog in Chandigarh /
Pet Shops For Pug Dog in Chennai /
Pet Shops For Pug Dog in Coimbatore /
Pet Shops For Pug Dog in Delhi /
Pet Shops For Pug Dog in Ernakulam /
Pet Shops For Pug Dog in Goa /
Pet Shops For Pug Dog in Hyderabad /
Pet Shops For Pug Dog in Indore /
Pet Shops For Pug Dog in Jaipur /
Pet Shops For Pug Dog in Kolkata /
Pet Shops For Pug Dog in Mumbai /
Pet Shops For Pug Dog in Mysore /
Pet Shops For Pug Dog in Nagpur /
Pet Shops For Pug Dog in Nashik /
Pet Shops For Pug Dog in Pune /
Pet Shops For Pug Dog in Surat /
Pet Shops For Pug Dog in Vadodara /
Pet Shops For Pug Dog in Vizag